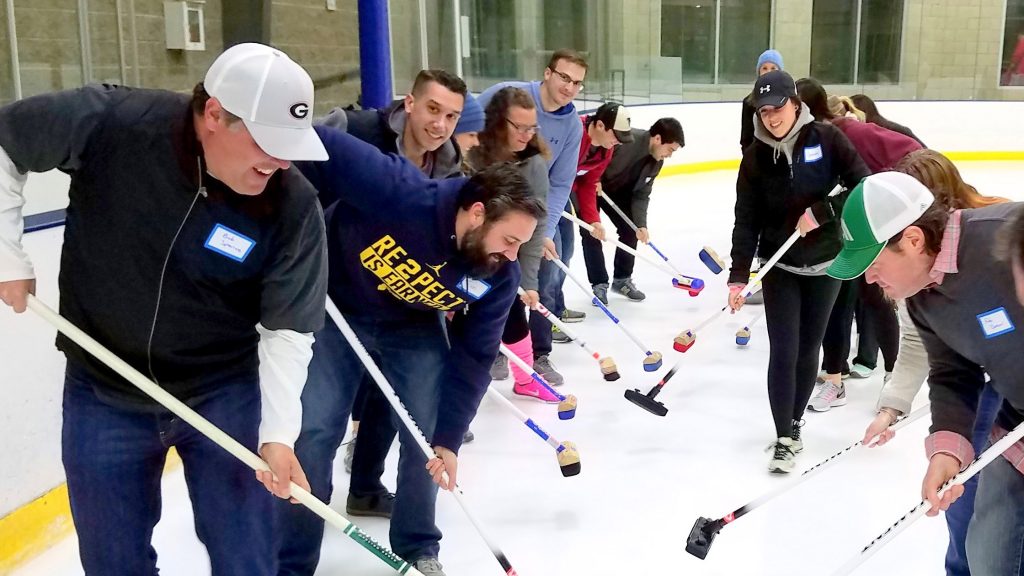 Curling looked like fun in the Olympics, now give it a try! – Sign up below:
Give curling a try and see if it's as easy as it looks on TV. We'll teach you how to throw a stone and sweep it into the house. You'll learn how scoring works, what's the point of sweeping, and you'll have the opportunity to join the beginner league at a discounted rate or come back and play a 2-hour game for free!
All equipment is provided and all you need is loose fitting clothing and sneakers. Curling adapts easily for anyone with mobility issues.
We play at Center Ice Arena at the top end of 285 and Roswell RD, just inside the perimeter. 5750 Roswell RD, Sandy Springs, GA 30342. Class check-in time is 10 minutes before your selected start time.
For more information, visit the New? Start Here! page.
Classes sold out, but you want to join the Beginner League?
We're getting hit hard due to the Winter Olympics so by popular demand we're releasing a Learn and League package.
Get a 2-hour Learn to Curl on March 9th, and join the 10-week Beginner League all at once (including your beginner discount). We'll have up to 40 brand new players, so you'll fit right in. Reserve your spot using the payment plan for only $125 today! (100% money back guarantee still applies to the league portion of your payment.)
Register Now – Classes fill up fast:
Pay once, play twice! Register today and after completing the learn-to-curl class you get to join the 10-week league at a discounted rate or play another game for free (scroll down for the form). League has a 100% money-back guarantee and is designed for brand new players.
Sold out? Send an email to ATLcurling@gmail.com and we'll put you on a wait list.
Learn-to-Curl – 2 Hour Classes
Are you pretty sure you want to join the beginner league if you like curling? Sign up here for the Learn and League package:
March 16th and March 23rd classes are part of the 2018 Atlanta Science Festival! These dates feature a little more info on the science behind curling. Click below to sign up directly through ASF's website, or visit our ASF page for more info. Both classes are held at Center Ice Arena.
After signing up, head back to the Atlanta Science Festival's website, click the "Events" tab and sign up for some of their other programs. You can also visit the ASF Exploration Expo at Piedmont Park on Saturday, March 24th from 11:00 AM – 4:00 PM, which is free, kid friendly, and open to everyone.


---
Learn-to-Curl Free Game:
If you've graduated from a Learn-to-Curl class and are ready to cash in your free game token, sign up below. Available spots are based on the number of substitutes needed for the week of league.
---
Can't make any of those dates? Fill out this form to join our mailing list and we'll notify you when new dates are added:
---
Need a quick refresher?

©2018 – The Atlanta Curling Club