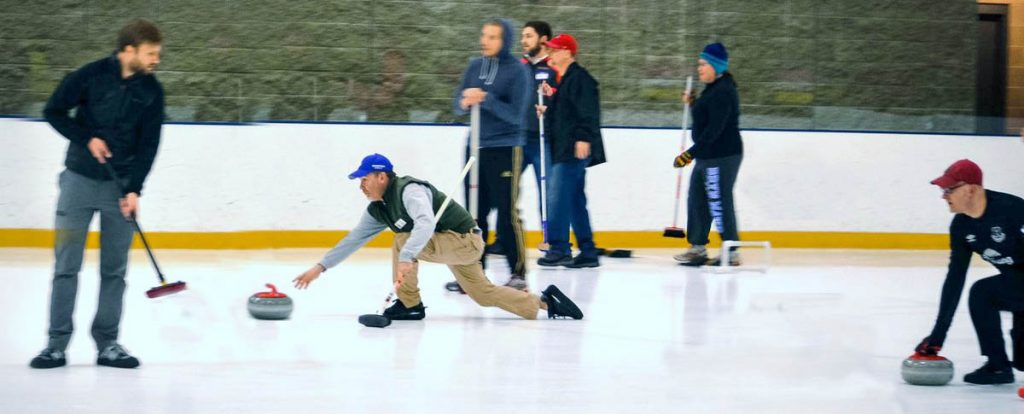 Ready to Play? 2018 Dates Now Available!
Sign up here for the 4-week Fun January League which starts Friday, January 5th and is perfect for Fall learn to curl students and anyone else looking to play a few games. You can also sign up for a single game, or join as a general member.
Scroll down to:
Join the League
Sign up for a single game
Become a member
Form: Absent? Let us know when you can't make it to league.
Form: Free Game — Learn-to-curl students and Membership Only free game signup form
---
2017 Fall League Schedule – Friday Nights
Last 2017 week! Friday, December 15th. Holiday broomstacking after the game.
2018 January League – Friday Nights
Haven't played in a while or just graduated from a Learn to Curl class? No problem! All of our teams are a mix of new and experienced players and we'll get you trained up! Experienced curlers love helping new curlers learn the game.
This league is perfect for beginners and previous learn to curl students. It's only $100 and if you didn't use your free game after your learn to curl class, you can apply a $25 discount. Simply select the correct option from the dropdown below.
January Fun League – 4 weeks – Friday Nights – Games begin at 9:25 PM (ice prep starts at 9:10 PM)
January 5
January 12
January 19
January 26
100% money back guarantee
100% Money Back Guarantee: If you sign up for league and decide after the first night or two that it's not for you, just let us know and we'll refund your entire league fee.
---
Sign up for a single game
Crazy schedule? Only free one or two nights this season? Sign up here!
No worries about skill or experience level — as long as you have thrown a stone before; our leagues are driven around the Spirit of Curling and are socially competitive with the goal of having fun and improving everyone's curling skill. As long as you have attended a Learn to Curl or have previous curling experience, you are more than qualified to sub 🙂
Membership is not required to sign up for individual games, but Membership Only members get two free games. Just sayin'…
---
Membership Only option
(If you sign up for league, your membership is already included at a discounted price. You do not need to sign up separately.)
If you can't make the commitment to league but still want to be a member of the Atlanta Curling Club, the Grand National Curling Club (our regional organization), and USA Curling, this is where you sign up.
Membership includes the following
Membership in the Atlanta Curling Club, GNCC and USCA for the 2017 – 2018 season
2 free games (use the free game form below)
A subscription to Curling News
Atlanta Curling Club name tag
Access to play in GNCC and USCA member tournaments
---
Can't Make a Date?
If you know you're going to miss a week, fill out this form to let us know so that we can get a sub for your team.
---
Free Game Signup:
Graduated from a Learn to Curl class and want to cash in your free game? Member Only claiming one of your free games? Available spots are based on the number of substitutes needed for the week of league. Simply sign up below:
Use this form if you're cashing in a free game, either as a Learn-to-Curl student or a Membership Only member.