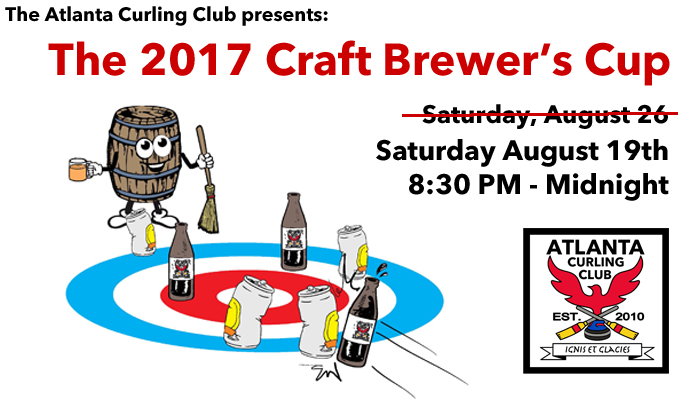 The Atlanta Curling Club invites your brewery to participate in the 2017 Brewer's Cup, a free curling tournament for Atlanta's craft beer producers. Learn to play this Winter Olympic sport and compete against other local breweries for fun and prizes.
Cost to you:
Free! (Yes, like, really free. And no, we don't want free beer.)
Who:
3 – 6 of your people. Reward your employees, tap room patrons, fans, friends, and/or family with a free night of fun representing your brewery.
Who's in?
First come, first serve for 8 local breweries. Currently confirmed (several others are trying to work around the date change):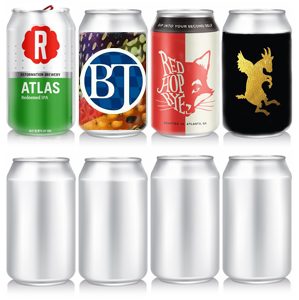 How does it work?
Sign up and show up. You get a 5 minute off-ice safety talk followed by 45 minutes of on-ice instruction for sweeping and throwing stones. Once everyone is up to speed, we'll play a tournament consisting of a series of short games round-robin style. Afterward, we broomstack (curling slang for hanging around drinking and socializing). We provide all equipment and there's no charge for participants or spectators.
Prizes:
Grand Prize: You'll get the Craft Brewer's Curling Cup trophy to bring back to your brewery.
– and –
You'll be the Atlanta Curling Club's official beer for the 2017 – 2018 season. That means we keep a cooler stocked with your beer all year at broomstacking (our cost, purchased at retail stores), and you'll get periodic mentions on social media, on our website and in emails.
There will be other awards and prizes including free learn to curl gift certificates you can give to employees or tap room patrons.
When and Where?
Saturday, August 19, 2017 from 8:30 PM until Midnight
We play at Center Ice Arena at 285 & Roswell RD: 5750 Roswell RD, Sandy Springs, GA 30342
How Do We Sign Up?
Fill out this form and we'll contact you with the details. Also fill it out if you just have questions
Checking...
Ouch! There was a server error.
Retry »
Sending message...
2017 Brewspiel - PreRegistration
Fill this out to sign up or ask questions. We'll contact you with details and/or answers.
We have designed t-shirts for this event and they are available for pre-order! Shirts ordered by Monday, August 14, 2017 at 3:00 PM can be picked up at the event.
What the Heck is Curling?
One of the only 2018 Winter Olympic sports where you can be over 22, have a spare tire, and still be insanely competitive. AKA my last shot at an Olympic medal.
Here's a quick 2 minute video:
Why?
We want to thank you for making Atlanta better with great beer, and building awesome tap rooms for us to hang out at our many off-ice social events. We would also like to share our sport with as many folks as we can before the upcoming 2018 Winter Olympics when it'll be a madhouse. We noticed that every time we go to breweries with our curling club t-shirts on, we are asked a bunch of questions because BEER PEOPLE = CURLING PEOPLE.
Can't Make it This Year?
Go ahead and fill out the form anyway and let's talk. We'd love to get you out on the ice sometime in Fall. Also, we'd be interested in partnering with you in some way. Your tap room patrons can get a discount on our Learn to Curl classes and perhaps our students can get a free koozie or tour discount or whatever at your place. Whatever works. We're easy and flexible.
Curling is a friendly, fun and beer-centric sport. Last year we taught over 500 people how to curl. This year there'll be a 200-300% increase due to the Winter Olympics. That's 1000+ personal interactions with fun outgoing customers who do stuff like spontaneously signing up for curling and brewery tours.
Thanks! Hope to see you out on the ice!