This March, the Atlanta Curling Club is partnering with the Atlanta Science Festival to reveal the hidden science of curling.
Curling started in the mid 1500's with a few guys in Scotland chucking rocks across a frozen lake. A short 450 years later, this Winter Olympic sport has evolved into a game of precision, from engineered ice and electromagnetic sensors to dial indicators that can measure 1/1000th of an inch and "broomgate," curling's own mini-scandal centered around advanced non-woven fabrics.
Join us on March 15th or March 22nd for a hands-on exploration of the physics of curling. In the 2 hour class you'll learn how to "deliver" a stone and sweep it into the "house." We'll explore elastic and inelastic collisions, how the ice affects the stone, how the stone affects the ice, and we'll definitively answer the question everyone asks when seeing curling for the first time: "Does sweeping really do anything?"
All equipment is provided. Each event will be held at Center Ice Arena (285 & Roswell RD, just inside the Perimeter) which is an ADA compliant facility and has free parking. All you need are sneakers, loose fitting clothing and your phone to take pictures. Curling is an adaptive sport and easily accommodates people with mobility issues. Ages (approximately) 12 and up are preferred. (Participants will be sliding a 42 pound stone across the ice.)
Tickets are now on sale through the Atlanta Science Festival's website (click on "Events" and search for "curling")
While visiting their website, check the "Events" tab and sign up for some of their other programs! You can also visit the ASF Exploration Expo at Piedmont Park on Saturday, March 23rd from 11:00 AM – 4:00 PM, which is free, kid friendly, and open to everyone.




Can't wait? Check out this Smarter Every Day video about why the stone curls in the "wrong" direction:
PS: The ice isn't anywhere near as slippery as when Destin slides that first stone. His pants got soaked because the ice was wet – probably right after a Zamboni run. No one should ever walk across wet ice – it's crazy dangerous.
Update: And here's yet another hypothesis on why the stones curl the way they do: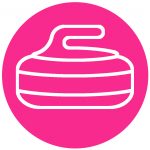 Need more info about curling and the Atlanta Curling Club? It's all right here on our info for beginners page.

©2018 – 2019 The Atlanta Curling Club