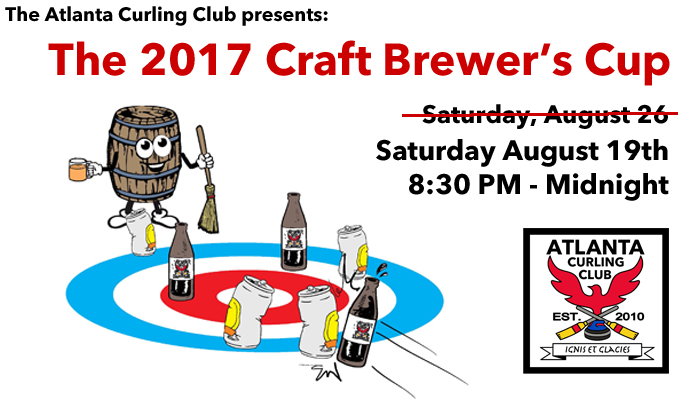 The Atlanta Curling Club is hosting a Learn-to-Curl with a mini-tournament for local area craft beer producers. Learn to play this Winter Olympic sport and compete against other local breweries for fun and prizes.
Tap Room Customer? Sign up Here:
Checking...
Ouch! There was a server error.
Retry »
Sending message...
Brewer's Cup Tap Room Signup
Your favorite brewery wants you to represent them on Sat, Aug 19 from 8:30 PM - Midnight @ Center Ice Arena.
Cost to you:
Free! (Yes, like, really free.)
How does it work?
The first 4-6 people to sign up get to represent the brewery. Everyone else can attend the open house to learn to throw stones and cheer on the teams.
You get a 5 minute off-ice safety talk followed by 45 minutes of on-ice instruction for sweeping and throwing stones. Once everyone is up to speed, we'll play a tournament consisting of a series of short games round-robin style. Afterward, we broomstack (curling slang for hanging around drinking and socializing). We provide all equipment and there's no charge for participants or spectators.
Simply wear loose fitting clothing and sneakers and we'll take it from there.
Prizes:
Grand Prize: You'll get the Craft Brewer's Curling Cup trophy to bring back to your brewery.
– and –
The winning brewery will be the Atlanta Curling Club's official beer for the 2017 – 2018 season. That means we keep a cooler stocked with their beer all year at broomstacking (our cost, purchased at retail stores), and you'll get periodic mentions on social media, on our website and in emails. There will be other prizes as well.
When and Where?
Saturday, August 19, 2017 from 8:30 PM until Midnight
We play at Center Ice Arena at 285 & Roswell RD: 5750 Roswell RD, Sandy Springs, GA 30342
T-shirts Available:
We have designed t-shirts for this event and they are available for pre-order! Shirts ordered by Monday, August 14, 2017 at 3:00 PM can be picked up at the event.
What the Heck is Curling?
One of the only 2018 Winter Olympic sports where you can be over 22, have a spare tire, and still be insanely competitive, AKA my last shot at an Olympic medal.
Here's a quick 2 minute video:
Please sign up using the form above.