2016 Fall Season is Up and Running!
We hit the ice starting with a big Learn to Curl and open house event on September 23, 2016 at Center Ice Arena.  Sign up for a Learn to Curl class and join the League!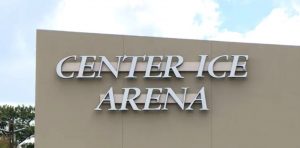 Where we play in Fall:
Center Ice Arena
5750 Roswell RD
Atlanta, GA 30342
Located at 285 and Roswell RD
Older News
---
1 Great Club – 2 Great Locations!

The Atlanta Curling Club is holding a 2016 Summer League at IceForum Duluth and a 2016 Fall League at Center Ice Arena!
2016 Summer League – IceForum Duluth – (85N between 316 & 120)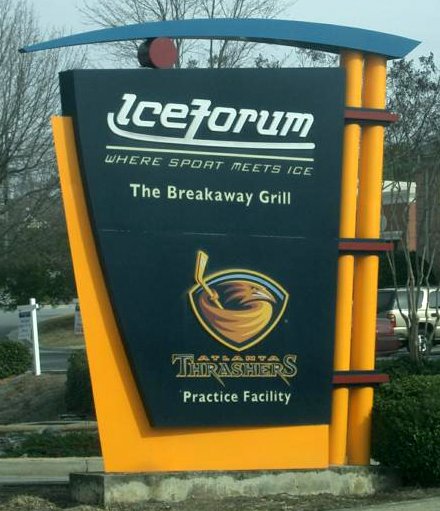 Now that the temperature and humidity are beginning to rise, you can "cool" off by trying the sport of curling this summer.  We are holding Learn to Curl classes and pickup curling on Friday, June 3rd and Friday, June 10th with a fun 6 week league spanning June – August.
You can sign up for an individual Learn to Curl class now, or for a limited time you can purchase a discounted "Learn & League" package and save big while getting some freebies!
We're super excited to bring this fun sport to IceForum, mostly because we get to meet all new people, but also because they have a full service bar overlooking the ice for Broomstacking!
2016 Fall League – Center Ice Arena in Sandy Springs – (285N & Roswell RD near 400)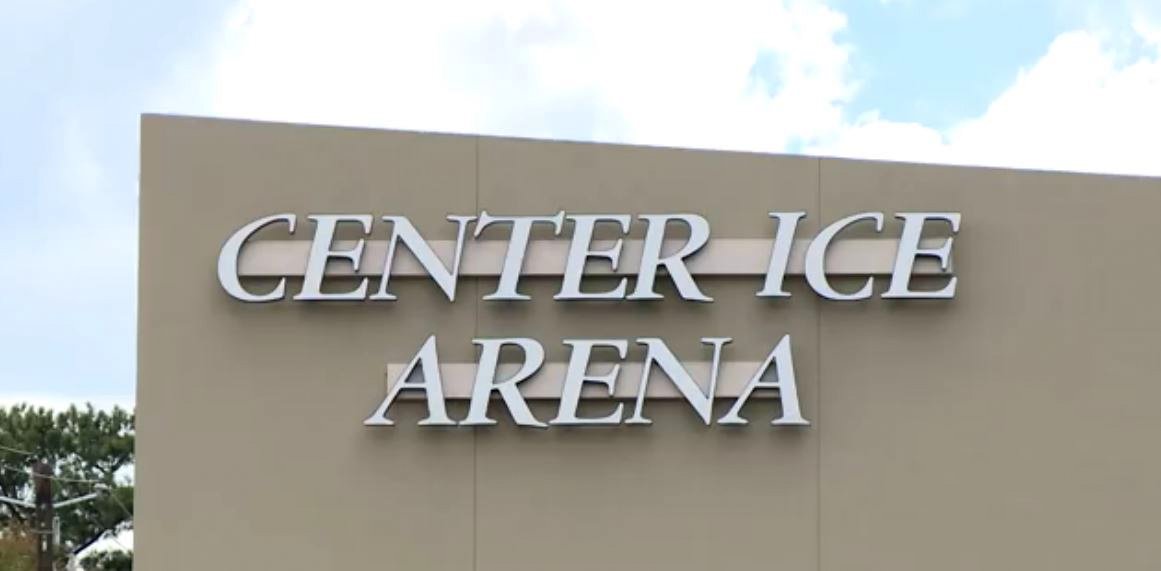 After a fun and successful year with Center Ice Arena (with an assist from China Cooks) we're happy to announce that signups are posted for our 2016 – 2017 curling season!
Learn to Curl classes are posted along with pre-season league packages.  All league purchases include membership in the regional and national curling organizations, as well as membership to the Atlanta Curling Club which entitles you to discounts throughout the year on pickup curling and Spring League.
---
2016 Annual Meeting & Board Elections
The Atlanta Curling Club is a 100% volunteer run organization.  Almost all of our members help out in one way or another, and some go one step further to direct the club as part of the Board.
This year's annual meeting was held in one of the meeting rooms at Center Ice Arena on May 21st from 12:30 – 1:30 PM.  Every year three board positions are up for election and the newly elected board members were announced at the annual meeting. We would like to welcome Chip Anderson, Erin Gawron, and Lou Urban on their election to the Board!
Center Ice Arena
5750 Roswell RD
Sandy Springs, GA 30342
---
2/29/2016 – Good Day Atlanta Visits the Atlanta Curling Club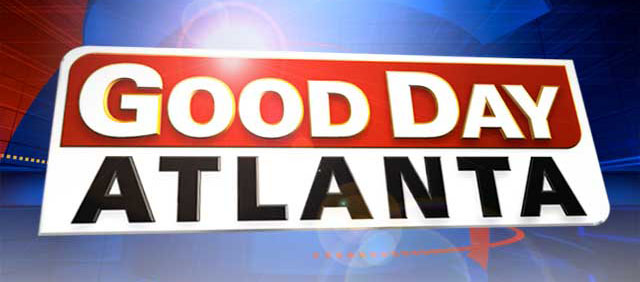 Good Day Atlanta filmed live segments with the Atlanta Curling Club on February 29th, 2016 (Leap Day!) between 8 and 10 AM.
Paul Milliken and crew from Fox 5 had a great time learning about the game and the history of curling and even showed off some of their new curling skills.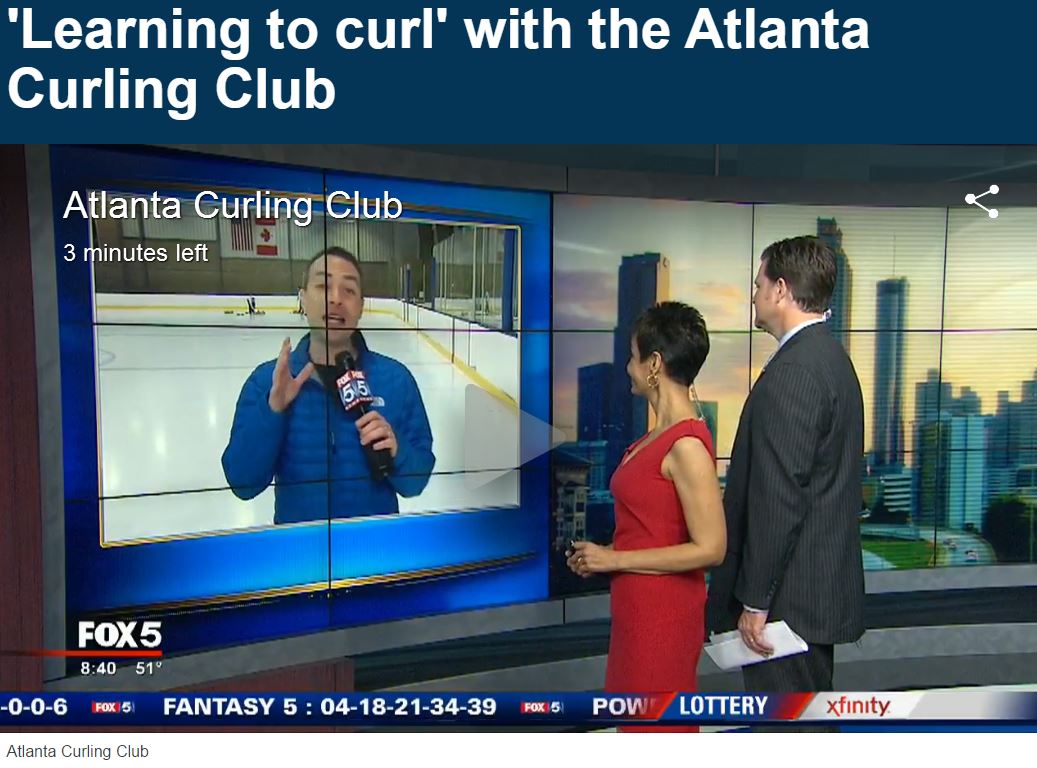 To watch one of the interviews that went out live click the image above.
---
2013 – PBA 30 Profile of the Atlanta Curling Club
Going back to our roots!  Leading into the 2014 Winter Olympic season, Atlanta Public Broadcasting (PBA 30) did a profile of the Atlanta Curling Club on their program This is Atlanta.  It's a wonderful 4 minute documentary featuring one of our founders, Jeff Williams, about how the Atlanta Curling Club was started along with background on the sport.
---
2010 / 2011 – Atlanta Curling Club is on the Map!
In the February 2011 issue of Curling News, the national publication of US Curling, the Atlanta Curling Club is featured in a front page article titled "Growth Spurt."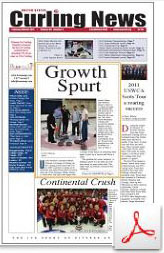 Curling News Feb-Mar 2011 Atlanta Curling Club Excerpts (PDF)
(Original publication – full issue)
The issue also had a second article about the curling camp held in July/August 2010 which is where our founding members learned how to curl for the first time.  Check it out!
Jeff puts one on the button at camp:
These photos are from when the founders of the Atlanta Curling Club visited Great Smoky Mountains Curling Club in Knoxville, TN to learn how to conduct a Learn to Curl class.  This was also their first opportunity to learn how to curl themselves!
The instructors in Knoxville were most gracious and our members had a lot of fun learning and hanging out with them.
The Atlanta Curling Club owes a great debt of gratitude to our friends in Knoxville; make sure you thank them when you meet one!